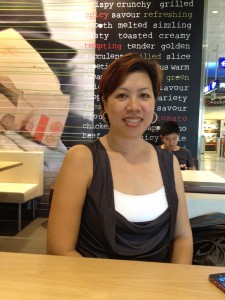 When I interview people to find out what is important to them. Most people will say health is the most important. But few really take charge of their health to exercise regularly, eat healthily and rest properly.
However, I met an amazing lady who showed me how she really takes charge of her own health. Elis Chai is a successful creative director of her own company, Bronze Design, which she established for about 20 years.
Forty something year old Elis' life revolves around family and her business, with hardly any social activities. In her younger, more dynamic and energetic days, she could work long hours on her graphic design projects and manage her family needs.
2 years ago, for the whole year, business was very good and she was working very hard on her projects as well as managing her family needs. She became highly stressed and overworked.
The following is a conversation I had with Elis about how she took charge of her own health:
Su Lee: When did you realize you have to do something about your own health?
Elis: The following year, I noticed my health deteriorated rapidly. I put on weight and developed cellulite. I was easily tired and felt that I was not in tip-top condition. I would be sick every 2 weeks, got well and then fell sick again.
I didn't feel like doing anything at all for anybody or myself. When I looked at myself in the mirror every morning, I hated myself. It was very disturbing to me as I felt as if I was going to collapse anytime.
I came to the realization that it was not about wearing branded clothes that would make me look better. It was about making my body healthy inside and feeling good. There was no point spending lots of money on nice clothes when my body was bad inside.
Su Lee: What did you do after you had the realization?
Elis: I went for massage 2 times a month, which really helped me to relax and de-stress. I had facial monthly as well as applying skin care product from MednSPA, which, are serum with nano-technology containing face lifting and moisturizng nutrients. It really helped to moisturize, tighten and lift my face.
I began to eat healthily and took health supplements. My diet consists of 1 portion of rice, 2 portions of vegetables, 1 portion of protein and fruits every meal. I took Acidophilus everyday to condition my intestine. I believe by keeping my digestive system healthy, it will take care of the other parts of the body.
I signed up for a package in a beauty salon that helped to tone the skin around my stomach and body through lymphatic detox.
I swim and run for about 15-20 minutes around my house on alternate days. And I did yoga once a week.
Su Lee: What were the challenges you faced while trying to improve your health.
Elis: The challenge was managing the time looking after my family, managing my business and incorporating all the other healthy stuffs in it. What I did was to use my time strategically and to steal time to do whatever I can. I developed a daily plan to fit them into my schedule.
Su Lee: So, how do you feel now?
Elis: I feel healthier and happier. I lost the flab on my stomach and changed my wardrobe. It is easier to buy clothes now.
Su Lee: So what do you do to maintain good health?
Elis: I swim or run 2 times a week. I do yoga weekly and maintain a healthy diet.
Su Lee: What advise would you give to someone who would like to improve his or her health?
Elis: Change your mindset and understand why are you doing this. For example, convert the money you would use to buy nice clothes into something that will enhance your internal well-being.
Set a realistic target for yourself in achieving weight loss. Look for stepwise improvement so that you can track your progress. Be discipline. Focus on the fulfillment of basic nutritional needs instead of indulging in unhealthy food.
Be ready to accept the consequence of non-action or dropout of your plan. Think about what do you want to get out of your own life. What type of life do you want?
In the nutshell, taking charge of your health is just about mindset change, discipline and priorities.
What have you done about your health? Share with me in the comment box below.
If like this post, you can receive more by filling in the form at the right side and you will get more tips and information coming your way